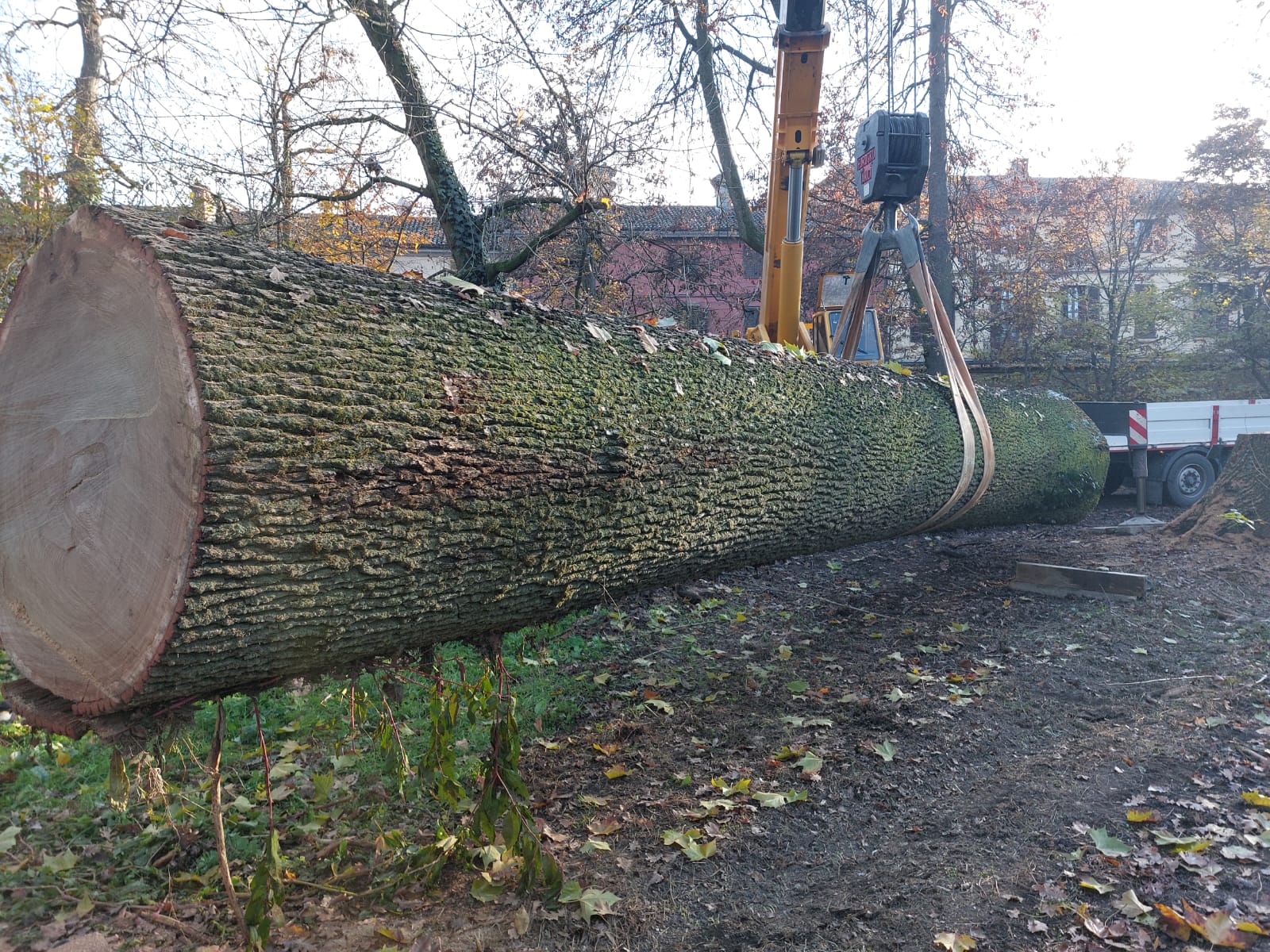 AN EXCEPTIONAL OAK LOG
AN EXCEPTIONAL OAK LOG WITH A HISTORICAL LINK TO CHARLES ALBERT OF SARDINIA.
This extraordinary English oak once stood in the Racconigi Park, near Cuneo, favoured by the House of Savoy, and was probably planted by Charles Albert to celebrate his return to Italy to ascend to the throne.
The park's entire history is intertwined with that of the House of Savoy.
Designed in the 1600s in the French style, it was converted to an English garden at the end of the 1700s. It was given its current design when Charles Albert, Prince of Carignano, ascended to the throne.
In 1820, the future king engaged German landscape architect Xavier Kurten, who redesigned the 170 hectares of garden in the Romantic style.
This park was home to a magnificent English oak (Quercus robur), which yielded an impressive log over 11 metres long, transported to a sawmill in Verona specialising in the recovery of large trees.
At 40 metres tall and almost a metre and a half in diameter, it was one of the park's most impressive trees, so much so that it was included in the first list of monumental trees compiled by the Italian Forestry Corps in 1982.
A report by agronomist Andrea Maroè from the Giant Trees Foundation, based on a dendrochronological study (dating by counting the rings of the trunk) and other analyses, revealed that the oak was around 199 years old when it was felled for safety reasons in 2022.
Assuming that it was planted in the park as a 2-3 year-old sapling around 1824-1825, and considering that Charles Albert returned to Turin in 1824 as heir apparent to the throne, this may be the very tree that he is said to have planted to celebrate his return to his native land.
The massive size of this splendid English oak's trunk will yield several boards, which will then be turned into a family of extraordinary tables in the Tabula workshop; impressive in length and with a truly exceptional history, they will live on into the future while respecting the environment of today.
TABULA AND SUSTAINABILITY
Here at Tabula, we put into practice the most sustainable form of waste reduction by using wood from trees that have reached the end of their natural life cycle and trunks of special wood rejected by the furniture industry as too big or awkward to process. This prevents the wood being disposed of by burning and the resulting CO₂ emissions.
In addition, our tables and furniture — as unique as works of art — are the result of a production process based principally on manual skill, and therefore with the lowest possible impact on the environment.